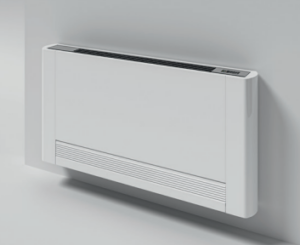 The iVector S2 is the whisper-quiet fan convector from Purmo. With an attractive, compact design the iVector S2 can provide high heating performance whilst operating at low temperatures and with low water content. This provides efficient energy use without
sacrificing outputs.
When combined with a reversible heat pump or a separate cooling source, the iVector S2 can offer both heating and cooling functions, making it a perfect solution for both commercial and domestic use.
The iVector S2 offers many installation options such as in-wall, on-wall and ceiling mounting, this allows for great flexibility in interior design, with energy-efficient
advantages. Combining the product with other low temperature systems, for example underfloor heating, provides an ideal combination for the optimum indoor climate comfort. The iVector S2 is also the perfect solution for rooms not in regular use such as guest rooms or hobby rooms thanks to rapid heat-up times.