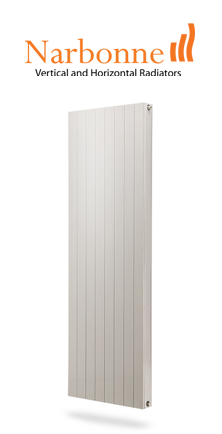 Narbonne architectural radiators are composed of several interconnected flattened bar heating elements with convector fins welded to the back of the radiator bars. Narbonne radiators are available in both horizontal and vertical flat bar arrays.
Each have 2- G20 bottom connections and 4 – ½" side connections as well as a internal control valve to adjust the heat flow and are available with optional thermostatic heads. Narbonne radiators are supplied with two side covers and top masking grill.
For a simple, elegant appearance with high outputs to match, the sleek, smooth Narbonne will complement any interior from traditional to ultra-modern décor.
Narbonne radiators are guaranteed for ten years. Download Warranty Here for Full Details.